BUNKER EDGING REDEFINED
The PermaEdge Bunker System establishes a new paradigm for bunker design, construction, and maintenance. This patented method accommodates a wide range of bunker styles and delivers long-term integrity. It's adaptability allows facilities to build it right and build it once.
DESIGN ENABLED
PermaEdge relies on an innovative, synthetic assembly which honors the aesthetic while giving architects new design tools. Moving beyond traditional methods, this system expands creative options while improving performance capabilities. The result enables facilities to better control maintenance costs and avoid bunker repairs,
read more
PERMA-EDGED
Designs where there is a slight to zero reveal. Maintains long-term integrity and battles trimming creep.
PERMA-FLASHED
Designs with a revetted face combined with sand flashing. Underlying structure stabilizes sand while maintaining long-term integrity.
PERMA-REVETTED
Designs where traditional stacked-turf look is desired. Avoids weathering and decay found in natural turf revetment.
PERMA-HYBRID
Designs where PermaEdge is used in conjunction with a synthetic bunker liner such as Sandtrapper, by IVI-GOLF.
THE PERMAEDGE PROCESS
The PermaEdge Bunker System has been developed to be a new tool for golf course design, construction, and maintenance. The patents that protect this product are structured as a system which includes the excavation and substrate preparation, conversion and preparation of recycled synthetic turf, the specifications for assembly materials, and the construction methods and designs. We license this system to our customers for their use and benefit. Prior to any project we work closely with our customers, architects, contractors, and other personnel to develop the best design, adaptations, and construction details that will deliver the optimal result.
PLANNING PHASE
Understanding Design Possibilities
Assessing Drainage Systems
Estimating Materials Requirements
Assessing Construction Capacities
Building Timelines
SUPPORT PHASE
Architect / Design Support
Site Troubleshooting
Building The Proposal
License Agreement
Scheduling
CONSTRUCTION PHASE
Approved Contractors / Builders
The Testing Phase
Installation Training - On-Site
Logistics
Construction Debriefing
GROW-IN & MAINTENANCE
Agronomy
Maintenance Criteria
On-Going Support
Future Project Planning
Customer Feedback
Latest work
SECESSION GC
An old fashioned club in the traditional sense of the word, located in Beaufort, SC , designed by Bruce Devlin. Secession brings the Scottish Links to the low-country.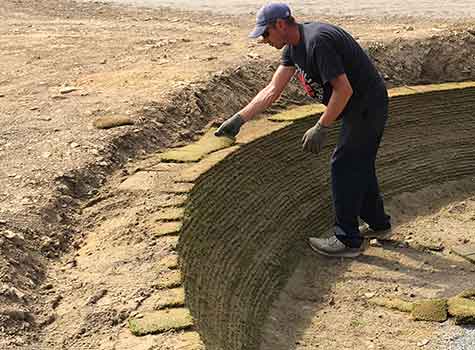 THE GREENBRIER
After the terrible storm and floods prior to the 2016 Greenbrier Classic, renovation of the Meadows and Greenbrier courses began, which includes PermaEdge.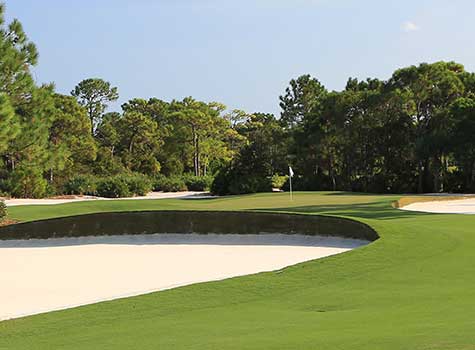 MEDALIST
Cut through pine forest on the coastal sand belt at Hobe Sound, Florida, the course had a distinctly links like feel. Designed by Pete Dye / Greg Norman, opened in 1995
Here is a sampling of some of the work that has been performed.

For your convenience, we've created a document that contains the basic ideas and features.